STOP PRESS!!
CORMAC ARE DRAINING THE FOWEY LEAT NEXT WEDNESDAY AND THURSDAY (18TH & 19TH NOVEMBER) FOR MAINTENANCE. ANY HELP WITH THE WORK OF FIXING LEAKS, CLEARING LEAVES AND TRIMMING VEGETATION WOULD BE APPRECIATED. MEET AT BLACKHILL CAR PARK AT 9.00 AM EACH DAY OR FIND THE WORK PARTY ALONG THE LEAT. Note: this is a delay of 1 day from that previously advised due to anticipated weather.

NEW! - INTERACTIVE MAP
The Friends of Luxulyan Valley have produced a new Interactive Map which we trust you will find helpful in understanding the beauty and heritage of the Luxulyan Valley. If you have comments or information regarding its accuracy we would be pleased to hear from you via our Contact us page.
-----oOo-----
Easy Fundraising
Please help us raise funds for 'The Friends' without it costing you a Penny. For more information go to 'Easy Fundraising' page.
Welcome
'The Friends of Luxulyan Valley' is a group concerned with the conservation of the Valley.

It was established in 1997 and has links with Cornwall Council and the Footpath Committees of Luxulyan and Lanlivery parishes.

We are also members of the British Trust for Conservation Volunteers and would welcome anyone interested in supporting our objectives:
Promote preservation and protection of the Luxulyan Valley.
Influence and assist in the management of the Luxulyan Valley.
Assist with and promote education and the history, natural history and other aspects of the Luxulyan Valley for all interested parties.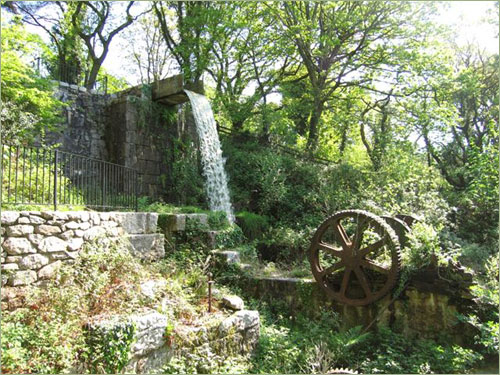 This is how the Wheelpit should look when water is in the Carmears, or higher, leat. For more information on why there is no water please see Notices and News page