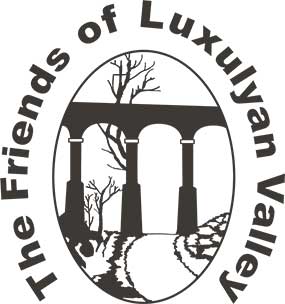 Welcome to The Friends of Luxulyan Valley
Luxulyan Valley is a beautiful wooded valley in mid Cornwall through which runs the river Par. It was designated as part of the Cornwall and West Devon Mining Landscape World Heritage Site in 2006 for the fascinating early 19th century industrial remains that can be found throughout the area.
The Friends of Luxulyan Valley are a group concerned with the conservation of the Valley. We were established in 1997 and have links with Cornwall Council and the Footpath Committees of Luxulyan and Lanlivery parishes. We are also members of The Conservation Volunteers. Our objectives are to promote, preserve and protect the valley.
You can help us by joining the Friends to keep this treasure for future generations; individual membership costs just £8 per year, joint membership £10 and family membership £12. Members get a quarterly newsletter and free entry to most of our events.
StARR Project presentation 19th January
Our next event is a presentation about the St Austell Bay Resilient Regeneration project on Wednesday 19th January. This will be via Zoom. For details of how to join the zoom meeting please contact Mandy on folvmembership@gmail.com See you there!
Black Hill car park closure
Black Hill carpark will now be closed from 17th January 2022 for improvement works.
Charlestown Leat Conundrum
For those of you that have read the latest blog on the mystery of water being diverted into the Charlestown leat, we are pleased to have confirmation from Cornwall Heritage Trust that Cornwall Council have now removed the stop board responsible for the diversion. Not a moment too soon looking at the weather outside!
A new New Year resolution perhaps?
We are looking for Friends who would be interested in becoming Trustee Committee members to help develop and protect our amazing Valley. Read our latest blog to find out more .......
Black Hill Car Park Closure
The valley's Black Hill car park will be closed from the 10th January 2022 for 8 weeks whilst resurfacing work is undertaken. Still want to explore the upper Valley? Why not go green and walk from the village or Luxulyan train station?
Upcoming events
20 Feb
Winter Walk Amongst the Trees
Sun 20th Feb 2022, 10:00am to 12:00pm
A walk starting in Luxulyan, looking at the trees in their winter plumage.
Meet at 10am: Luxulyan Village School, PL30 5EE
2 Mar
ANNUAL GENERAL MEETING
Wed 2nd Mar 2022, 7:30pm to 9:00pm
Annual General Meeting, followed by a presentation on the Political Shenanigans of JT Treffry.
Meet at 7.30pm: Luxulyan Village Hall, PL30 5QA