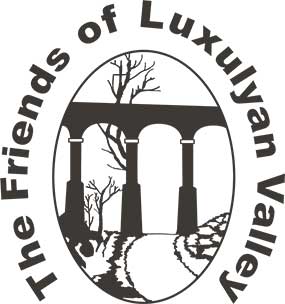 Welcome to The Friends of Luxulyan Valley
Luxulyan Valley is a beautiful wooded valley in mid Cornwall through which runs the river Par. It was designated as part of the Cornwall and West Devon Mining Landscape World Heritage Site in 2006 for the fascinating early 19th century industrial remains that can be found throughout the area.
The Friends of Luxulyan Valley are a group concerned with the conservation of the Valley. We were established in 1997 and have links with Cornwall Council and the Footpath Committees of Luxulyan and Lanlivery parishes. We are also members of The Conservation Volunteers. Our objectives are to promote, preserve and protect the valley.
You can help us by joining the Friends to keep this treasure for future generations; individual membership costs just £8 per year, joint membership £10 and family membership £12. Members get a quarterly newsletter and free entry to most of our events.
Mistaken identity
The birdwatchers amongst the readers of the latest blog will have spotted I mistook a nuthatch for an early wheatear! Interestingly in this age of digital information, it was a good old fashioned book that led to the discovery! Well, I really don't mind, I am still enjoying their visits to my garden.
Read our new blog article 'Is it Spring yet?'
'When is Spring?' my partner asked me some weeks ago, following Matt Hancock's announcement about a possible end to lockdown (which now seems overly optimistic). Struggling as I was to get through the dark, wet days of January, it couldn't come soon enough, but when would it arrive?
Advance Notice of Car Park Closure
1 week temporary closure at Black Hill Car Park, Luxulyan Valley commencing 18 January 2021 for 5 days
Work has commenced on a number of activities within this World Heritage site (WHS) which will result in the design of subtle, but meaningful improvements to the visitor experience, the biodiversity and long term management within the Luxulyan valley.
As part of this commitment, Cornwall Council has commissioned Cormac to undertake ground investigation works to inform designs for possible improvements to the Black Hill car park and adjacent paths. This area has been cleared of brambles and has already been the subject of a detailed topographic survey. Designs will be aimed at addressing issues of drainage, access and surfacing whilst maintaining the feeling of rural isolation and sense of place befitting the site and its heritage. An important aim is to improve access to view the magnificent Treffry viaduct.
Work has also begun on a long term Woodland management strategy. This is partly in response to the problem of Ash die-back and detailed tree survey work is being carried out, particularly in the vicinity of the Black Hill car park. The surveys will guide and inform design, woodland management and activities throughout the valley, including management of the leat walks and other industrial archaeology features.
Cormac apologises for the temporary inconvenience this work may cause. If you have any queries or concerns, or would like to speak to someone about these works, please call 0300 1234 222, or email us at contracting@cormacltd.co.uk
Upcoming events
21 Apr
English China Clays Archive Film show - Zoom presentation
Wed 21st Apr 2021, 7:30pm to 9:00pm
A presentation by Malcolm Gould who will be showing us films from the English China Clays archive.
Please email FoLVmembership@gmail.com if you would like to attend and the Zoom link will be sent out nearer the time.
22 May
Wildflower Walk
Sat 22nd May 2021, 2:00pm to 4:00pm
A leisurely stroll whilst enjoying the beauty of the Valley's wildflowers with Joan Farmer.
Booking essential - please email joanfarmer38@gmail.com or phone 01726 852603.
Meet: Ponts Mill car park, Map ref: SX 072 562
Subject to Covid restrictions