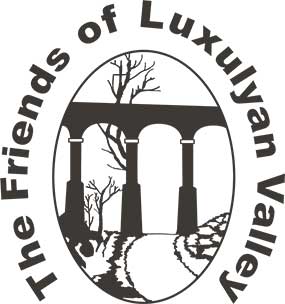 Welcome to The Friends of Luxulyan Valley
Luxulyan Valley is a beautiful wooded valley in mid Cornwall through which runs the river Par. It was designated as part of the Cornwall and West Devon Mining Landscape World Heritage Site in 2006 for the fascinating early 19th century industrial remains that can be found throughout the area.
The Friends of Luxulyan Valley are a group concerned with the conservation of the Valley. We were established in 1997 and have links with Cornwall Council and the Footpath Committees of Luxulyan and Lanlivery parishes. We are also members of The Conservation Volunteers. Our objectives are to promote, preserve and protect the valley.
You can help us by joining the Friends to keep this treasure for future generations; individual membership costs just £8 per year, joint membership £10 and family membership £12. Members get a quarterly newsletter and free entry to most of our events.
Ongoing improvements for access to the Valley
You may have noticed a lot of disruption in the Valley lately. Work funded by Cornwall Council is going on to improve and repair its access, footpaths, picnic areas, biodiversity and to protect its industrial remains. This unfortunately creates unsightly ruts and material deposits whilst worked is carried out. Cormac assures us that all areas affected will be re-instated once the work is complete and that safety inspections are carried out regularly. Look out for more information to appear on our website blog.
Sewage Sleuths
Read our new blog article on river monitoring and the search for phosphate pollution in the river Par
Upcoming events
15 Dec
Christmas Social and UK National Parks
Wed 15th Dec 2021, 7:30pm to 9:00pm
Come and enjoy an evening of Christmas indulgences, and a presentation by Tracy Elliot on the UK's National Parks and other specially designated Areas of National Interest.
Meet at 7.30pm: Luxulyan Village Hall, PL30 5QA
19 Jan
StARR Project
Wed 19th Jan 2022, 7:30pm to 9:00pm
A presentation about the St Austell Bay Resilient Regeneration Project, and its aims to reduce flood risk to the local communities of St Austell Bay, Par and St Blazey.
Meet at 7.30pm: Luxulyan Village Hall, PL30 5QA