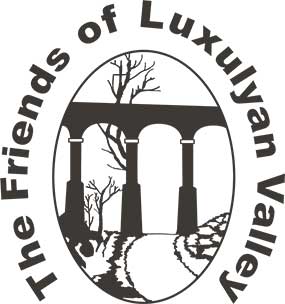 Welcome to The Friends of Luxulyan Valley
Luxulyan Valley is a beautiful wooded valley in mid Cornwall through which runs the river Par. It was designated as part of the Cornwall and West Devon Mining Landscape World Heritage Site in 2006 for the fascinating early 19th century industrial remains that can be found throughout the area.
The Friends of Luxulyan Valley are a group concerned with the conservation of the Valley. We were established in 1997 and have links with Cornwall Council and the Footpath Committees of Luxulyan and Lanlivery parishes. We are also members of The Conservation Volunteers. Our objectives are to promote, preserve and protect the valley.
You can help us by joining the Friends to keep this treasure for future generations; individual membership costs just £8 per year, joint membership £10 and family membership £12. Members get a quarterly newsletter and free entry to most of our events.
Path Closure
The path alongside the Fowey Consols leat is currently closed as preparations are being made for planned leat repairs to commence to prevent water leaks. The path closure is for safety reasons, whilst materials are being transported with a barrow that requires the full width of the path, and whilst works are ongoing on the narrow bank.
New blog article to read
A member of the Friends shares a surprise finding during his walk in the Valley recently.
Black Hill Car Park
The resurfacing and drainage works at Black Hill Car Park are now complete and it is open for use. Hooray!
Do you have a minute or two?
Minute taker needed! Friends of Luxulyan Valley trustees still need a secretary to helpb organise our meeting agendas, write up minutes and help with any correspondence. If that sounds too much but you would be willing to just write up our minutes, we would still love to hear from you. We meet every other month and have an annual AGM. Although it is an important role it is not too great a commitment, plus you will get to know everything that is going on in the Valley first hand!
If you are interested in helping and getting to know more about the Valley please get in touch via Facebook Messenger , email or request a phone call for a chat!
Our new 2022 Valley Guidebook is here!
The long-awaited Friends of Luxulyan Valley's 64-page souvenir guide to the Valley is now available to buy online or in local shops. Our new edition includes an A4 colour map of the area and is packed with photographs old and new in full colour throughout. The story charts the history of the Valley from Medieval times to its zenith during the Age of Enlightenment, when the ingenuity and ambition of one man created an industrial powerhouse, the remaining structures and landscape of which has earned the Valley its World Heritage status.
Our guide also provides information on common flora and fauna that might be seen when visiting, with numerous recommended walks to help readers discover the many historic and natural wonders of the Valley for themselves.
See our Shop page for more details.
Upcoming events
20 Aug
Bodmin & Wenford Railway
Sat 20th Aug 2022, 10:00am to 12:30pm
Bodmin & Wenford Railway.
A steam train ride to Bodmin Parkway and back, with a guide to explain the workings of the railway.
£10 for FoLV members, £15 for non-members.
BOOKING ESSENTIAL, Tel. Tracy 01208 831961, or email: tracyclimber@hotmail.com
Meet: Bodmin General Station, PL31 1AQ - train departs at 10.30am.
Free parking adjacent, but please give yourself plenty of time and arrive early.
18 Sep
Cam Bridges Walk - WELLIES ESSENTIAL
Sun 18th Sep 2022, 10:00am to 12:00pm
Cam Bridges Walk. WELLIES ESSENTIAL.
A walk into the Luxulyan Valley from the village via the Saints' Way to look at the Charlestown Leat, the settling tank and this section of the Treffry Tramway.
Meet: Luxulyan Village School bus stop, PL30 5EE, 10am.
Members - free. Non-members - £2