Shop
The Friends of Luxulyan Valley have produced a number of fascinating postcards and publications. Please click on an image for more information. These are available at all our events, buy online or by post.
DVD
A DVD which gently guides you through some of the wonders of this truly magical place.
47 minutes of pure relaxation. £11.50 p & p included.
Modern postcards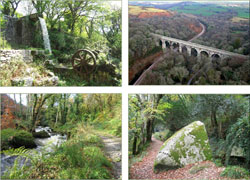 A set of four colour postcards showing views of the valley, £2 for four.
Historic postcard
Produced from a series of photographs in 1902, £5.50 each. An original postcard over 100 years old - Not a reproduction.
Guide book
Our new 2022 full colour Guide to the Luxulyan Valley is now available to buy, full of historical insight, illustrated with many new photographs and an A4 colour map of the area. Price £5.00 plus £2.50 p&p.