Shop
The Friends of Luxulyan Valley have produced a number of fascinating postcards and publications. Please click on an image for more information. These are available at all our events, buy online or by post.
DVD
A DVD which gently guides you through some of the wonders of this truly magical place.
47 minutes of pure relaxation. £11.50 p & p included.
Modern postcards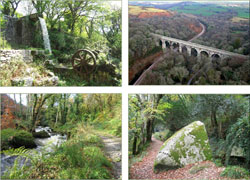 A set of four colour postcards showing views of the valley, £2 for four.
Historic postcard
Produced from a series of photographs in 1902, £5.50 each. An original postcard over 100 years old - Not a reproduction.
Guide book
This Guide to the Luxulyan Valley includes many new and reproduced old photographs and postcards plus an A4 colour map of the area, priced £3.00.